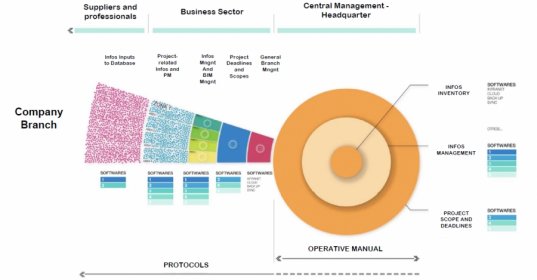 BIM IMPLEMENTATION.
The term "BIM Implementation" defines a package of services designed to obtain a corporate-level system that could offer not only a software-based BIM model but a whole standardized methodology for the implementation of BIM throughout different departments and/or services. Whereas the "BIM modeling" service focuses on transferring information from the traditional formats to a BIM model the goal of the "BIM implementation" package is to create a whole BIM system at corporate level and not in terms of singular project. In technical terms this implies the implementation of database, protocols, manuals and templates in order to define the flow, features and interoperability of all information to be handled within and throughout the system.
The "BIM Implementation" service can be applied following two different methods:
Standard Implementation.
Allows the Client to implement the BIM at corporate level from the operative perspective in a short period of time. GBF offers a specific package of products through which the Client could rapidly have a standard BIM system up-and-running within its corporative environment. Such products can be classified as follow:
Protocols: technical specs related to the general arrangements and operability conditions of the model complying with the ISO 19650;
Manuals: technical manuals relates to specific operations to standardize the activities of the different subjects involved;
Templates: pre-structured forms to standardize and arrange the flows of information.
BIM Execution Plan (BEP): technical specs related to the specific arrangements and operability conditions of the model.
Each product is developed through common modeling features and represents an option for the Client to start working within the BIM environment through a standard approach.
Custom Implementation.
A service package focused on the BIM implementation process described above but through custom products fully designed and developed on the basis on the Client's needs. Like the operative implementation process, the final result allows the Client to implement a BIM system at corporate level but in this case all service-implementation procedures are preceded by a comprehensive information-collection process. Such information could be related, but not limited to, Client's operations, internal management system, corporate information flows and create the basis upon which all BIM-related custom products, such as database, protocols, manuals and templates are then developed.
Like the standard implementation this custom-service package is integrated by multiple training sessions for the Client concerning the BIM system and its related products. This process ends with the education of a team of experts on the Client's side leaded by a "BIM manager" which is in charge of managing the BIM system and its evolution.