Ceramic Ventilated Façade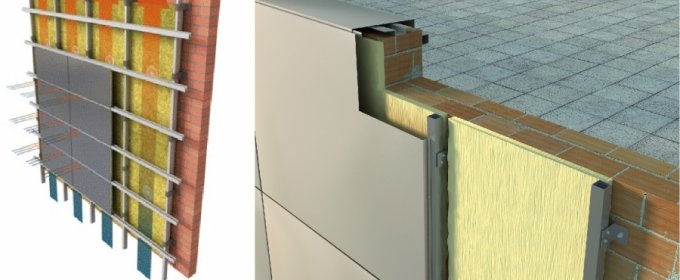 The Polytechnic University of Valencia recently developed a new type of ceramic ventilated façade and tested its behavior in hot-climate conditions. The results were remarkable since the façade, together with a light-frame construction and thick insulating layer, worked like a chimney and, if properly designed, enhanced the passive cooling capacity of the building envelope.
The principle is simple, in hot-weather conditions, when the sun hits the external ceramic layer of the façade heats up the material which, in turn, rises the temperature of the air chamber located between the ceramic and the first insulating layer through a convection process. As the temperature increases, the air starts moving up boosted by the chimney effect of the façade pulling other fresh air from the façade air intakes located at the base of the building. If the intakes are designed properly with underground air conduits, the temperature of the incoming air is much lower than the one of the exterior environment and by flowing along the façade keeps the interior envelope at a lower temperature.
Moreover, UPV researchers discovered that the thermal inertia effect, critical for achieving good comfort for interior spaces, can be achieved also with light-frame construction. The thermal inertia effect affects the rapidity of the temperature changes within a building envelope flattening down the sinusoidal curve. Generally big thermal inertia effect is reached by adding weight to the building envelope, the more mass, the more it will take to change its temperature. However, within the ventilated façade project, UPV researchers discovered that the same effect can be reached using a ventilated façade together with insulating layers of considerable thickness.
As a result, this new type of architectural solution dramatically enhances the energy-efficient behavior and the interior comfort of buildings under hot-weather conditions.
Some of these results along with other considerations were published by Energy & Buildings for the research article "Thermal behavior analysis of different multilayer façade: Numerical model versus experimental prototype" (Ignacio Guillén et al.).