ARMALAM®: Steel-reinforced Laminated Wood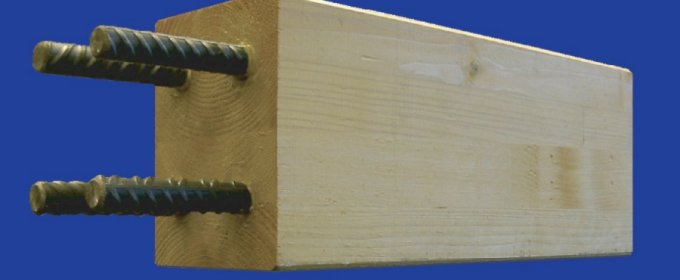 The Armalam® technology is based on the reinforcement of regular laminated wood beams with one or more steel (or CFRP) rebars in specific milling tracks parallel to the beam axis and glued to the wood lamellas through a specific epoxy glue which is considered part of the patented technology.
The key features of an Armalam® beam versus a normal structural element in laminated or hard wood are:
up to 2.5 times more rigid (1);
up to 2.5 times more resistant (1);
fireproofing features up to R30 – R60 – R… (2);
bending collapse through the development of a pseudo-plastic joint (3);
minor impact of the wood defects on the whole mechanical behavior of the beam;
lower impact of humidity variations and load duration on the global rheological behavior;
lower beam height and therefore material saving for beams equally loaded;
(1) The value of 2.5 is not an real limitation but a specific choice caused by design and production needs.
(2) The result depends on the distance between rebars and beam external surface.
(3) This behavior is very useful in case of structural design for earthquake-proof buildings.
Moreover, the fracture of the wood fibers on the taut side of the beam doesn't bring to a sudden collapse of the structure thanks to the plastic deformation of the steel rebars.