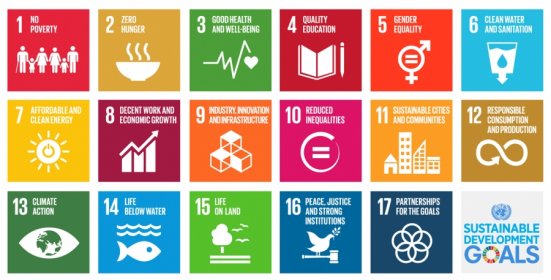 The climate-change actions described within the previous section are strongly related to other aspects of the human society, such as, economic, infrastructural, energetic, logistic, social, etc. Therefore, some of these concepts are being taken as reference for the new international regulations of the United Nations in relationship with the sustainable development of the world. Such regulations also known as "Sustainable Development Goals" and gathered together under the name "Agenda 2030", define specific sustainability-related criteria for each field in which we want to work. The program Agenda 2030 defines 17 macro-fields to be developed in order to reach a sustainable development by 2030 and within each field it defines specific parameters to measure the level of sustainability of a particular project, activity, institution, company, etc.
The majority of these parameters are strongly related to specialties already demanded and offered by the market. However, until now such expertise would be implemented only in specific market niches, such as, Green Finance and Green Buildings. For example, the mitigation of the risk associated with climate change is already required by several financial institutions in order to evaluate the feasibility and the profitability of certain operations. The focus of international institutions, such as the UN, on these sustainability-related aspects increase their importance also in other fields. In fact, financial institutions often use the Agenda 2030 parameters to evaluate the fundability of market operations, company actions and also construction projects especially at international level. This happens also because nowadays Agenda 2030 is the only program that defines specific sustainability-related parameters at a worldwide scale.
As a result, Agenda 2030 is a program that defines specific parameters for each country, state and institution but is also a powerful tool to evaluate and create added value for projects and market operations at international scale.
Within the global perspective of Agenda 2030, Green Building Factory provides specific services for the fulfillment of the following goals:
Goal 7: Affordable and Clean Energy;
Goal 9: Industry, Innovation and Infrastructure;
Goal 11: Sustainable Cities and Communities;
Goal 12: Responsible Consumption and Production,
Goal 13: Climate Action;
Goal 15: Life On Land.