Acoustical Simulation and Design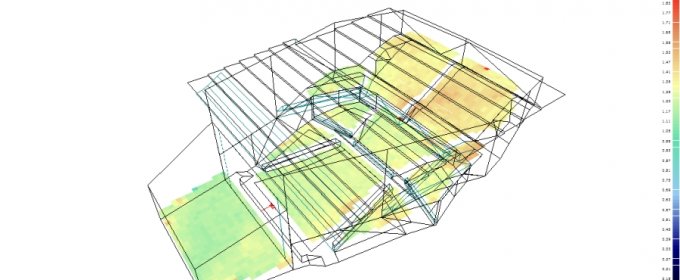 The acoustic simulation is the process that allows us to recreate in a virtual reality the principles of physics under which the sound is generated, spread and absorbed during a certain lapse of time within a specific area or fence. This lets us understand the acoustical behavior of a certain space, open or closed, prior to its construction and evaluate the sound-effect comfort of each designed space in relationship with its geometry and materials, as well as the auralization toward the reproduction of acoustical sensations of each designed space.
The sustainability protocols currently in use as LEED®, BREEAM® and others ask for the development of acoustical simulations during the design stage most of all for the so-called "sensitive" spaces, such as, schools, theaters, auditoriums, etc.
GBF, thanks to its skilled professionals, offers you a complete service for the development of acoustical simulations with tools that can be adapted to your needs. Services provided can be summarized as follow:
Simulation of acoustical conditions for interior spaces using ODEON.
Acoustical simulation at urban scale using PREDICTOR.
Acoustical tests and measurements on-site and in laboratories for the evaluation of noise-insulating potential of materials for aerial and impact noise and simulation of the conditions of perception of the final users.
Acoustic CONDITIONING design (acoustic comfort in the singular enclosure).
INSULATION design for and from noisy rooms or noise sources (acoustic architecture and acoustic of noisy systems).
Design of audiovisual SOUND SYSTEM INSTALLATION
A high class building requires acoustic comfort and quality parameters on a par with the excellence of its services. It is therefore not reasonable to limit acoustic performance to the requirements set out by standards, regulation and codes. Such basic requirements aim to limit irritating noises and therefore do not comply with the best comfort standards claimed by guests during their luxury stay.
For an optimum acoustic comfort of the interior spaces the acoustical assessment of the following tasks are required:
Conceptual design;
Schematic design;
Design development;
Construction documents;
Site supervisions.