The reasons to go "Green"
1. Increase the values of your asset.
Most of the construction-related regulations, including quality standards, establish criteria that are valid only at a national scale. Since international green-building standards cover a wide range of fields including construction practices, design specs, etc., their use has become a guarantee of quality benchmark for the development of international projects. Moreover, the market's demand of sustainability adds values to the building also from the points of views of the image and the salability. As a result, nowadays most of the companies investing and operating at an international level have their buildings certified under one of these green-building standards.
2. Meet the international regulations on climate change.
The new regulations created worldwide because of the Paris Agreement (2015) impose strict criteria for building developments in relationship with CO2 emissions and climate change. As a result, sustainability is not an option anymore; it became mandatory and so it is for the construction field. The level of sustainability is now being measured through specific Key Performance Indexes (KPIs) to which buildings also have to meet in order to avoid potential issues and fines.
3. Enhance the building comfort and the company performance.
For many aspect, the terms "energy efficiency" and "thermal comfort" are synonyms when talking about a building. Energy efficiency also means maintain temperature levels minimizing the thermal peaks (upper and lower), take maximum advantage of solar radiation and light, avoid unpleasant air leaks or streams and other factors that add quality to the building interior environment. This concept turns the cost of developing an efficient building into a mid-long term investment. Therefore, the majority of international green-building standards incorporate specific sections related to energy efficiency and internal comfort, in order to convert the green-building seal into a certificate of quality.
4. Access to green funding and investment opportunities.
Another result of the Paris Agreement (2015) was the creation of European regulations related to the financial and investment sectors. Since 2020 banks, investment funds and other financial institutions are enforced by law to dedicate part of their investments to sustainability-related assets. As a result, they created different approaches to measure and finance sustainability-related activities, such as, Green Bonds, Climate Bonds, Green Grants, etc. In order to access these funds, developers and owners must fulfill specific sustainability-related requirements and demonstrate that their assets are "green".
5. Reduce the CO2 emissions and the effects of climate change.
As cited above, sustainability is not an option anymore. This is not related only to the new regulations but also to the future of our planet. The construction sector is responsible for the 39% of CO2 emissions in the world with operational emissions (from energy used to heat, cool and light buildings) accounting for 28% (source: www.worldGBC.org). We must lower these levels as soon as possible in order to stop climate change and ensure a future for the planet.
THE GBF METHOD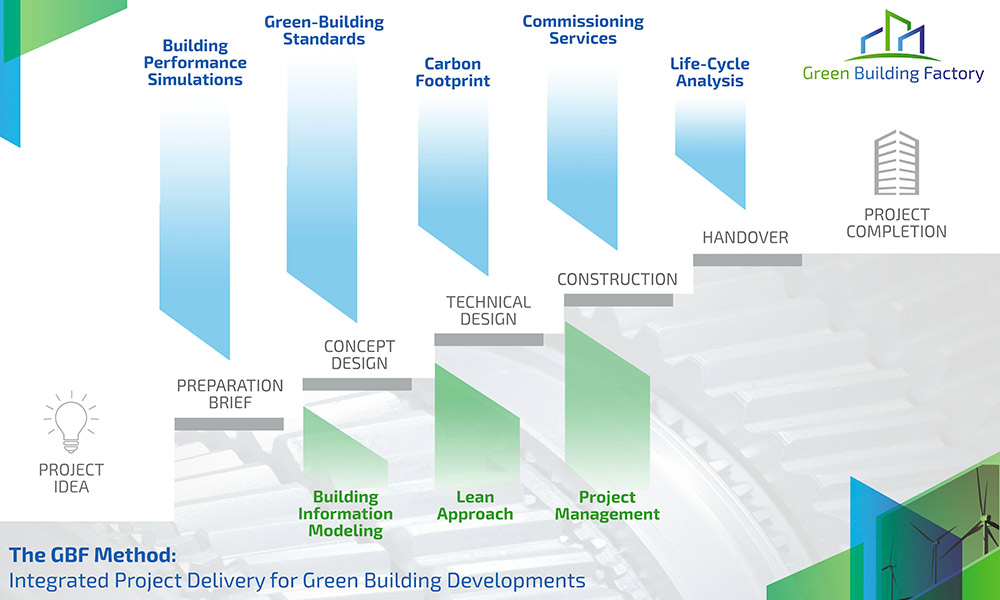 SCIENCE MUSEUM OF TRENTO - ITALY
Commissioning Authority Services - LEED Assessment
The MUSE project is located in Trento, Italy and is part of a major urban project developed by the architect Renzo Piano. During the project development our partners performed the services of Commissioning Authority and LEED Assessment. The LEED Assessment was developed during the early stage of the project in order to evaluate the complex potential to become a LEED certified building and [...]
Read more

LEED® Building Design and Certification

Technical services for the design, certification and maintenance of buildings complying with the requirements of the international protocol [...]
Read more
BREEAM® Building Design and Certification

Technical services for the design, certification and maintenance of buildings complying with the requirements of the international protocol [...]
Read more
Regular or Steel-Reinforced Laminated Wood Structures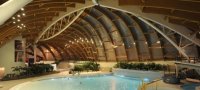 Architectural and engineering services for the design and development of wood buildings and major structures in regular or steel-reinforced [...]
Read more
Energy Modeling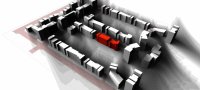 The energy modeling represents a key-aspect of the building design as it is the only available tool to estimate the quantity of energy that the [...]
Read more