FORMER COLOMBAIA BARRACKS - BRESCIA - ITALY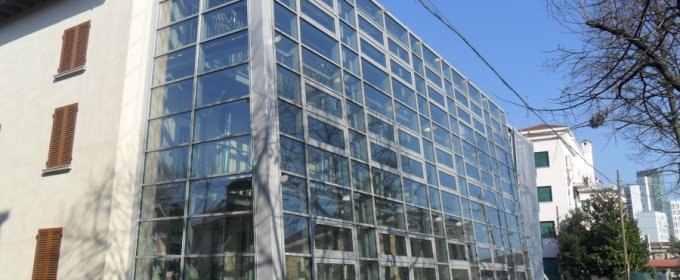 Building Renovation and Energy-Efficient Design
The restoration and renovation project of the Former Colombaia Barracks (Fig. 1) has been addressed with an integrated approach where the study of the energy aspects joined the attention for a consistent recovery with the existing one taking into consideration all aspects related to the use of low-impact materials LCA (Life Cycle Assessment) and the definition of high comfort conditions in the borders.
With regard to the used materials, the project provides substrates made ​​of granules and wood fibers, clay plaster interior and exterior lime-based, the ceiling of the first orizzontamento and volutes on the ground floor were maintained according to the original configuration and then consolidated, while the other two horizontal structures were demolished and reconstructed out of wood with sections suitable for the new uses.
In order to reduce heat loss of the building was carried out, on the north, west, east paneling in a marsh reed, fastened to the wall by means of appositive anchors like fisher plastic". Such panels were then coated on 'special glass fiber mesh.
Besides being the best plaster always been known for its ease of application, are ideal for creating coats both inside and outside as they do not fear the moisture, thus avoiding the risk of swelling and cracking of the plaster.
From the point of view of the sub - plant system , the main elements characterizing the sustainability of the building are both as active and passive type, combined and integrated one with each other:
thermal power generator with geothermal heating pump with closed circuit;
summer cooling generator natural cooling with radiant floor;
controlled mechanical ventilation with heat recovery bypass winter and summer;
natural ventilation summer when the environmental observed data allows it;
recovery of white water for the irrigation of gardens and allotments provided for each apartment;
solar thermal collectors for domestic hot water heating and backup heating with radiant panels ( 19 m2 absorber area );
installation of utility modules for accounting for individual consumption;
photovoltaic panels with a peak power of 5 kWp.